The 34th Annual Conference on Medical and Legal Issues in Brain Injury
Overview
The North American Brain Injury Society is pleased to announce that the 34th Annual Conference on Medical and Legal Issues in Brain Injury will be held at the historic Wyndham New Yorker Hotel. Whether you are a seasoned neuro-litigator or handling your first TBI case, this comprehensive conference will provide you with the tools you need to successfully handle these challenging cases from beginning to end.
Pre-Conference: Wednesday, September 21, 2022
Main Legal Conference: Thursday, September 22 – Saturday, 24, 2022
Program
For information on the program and its sessions, click here.
Conference Speakers
Confirmed conference speakers will be posted shortly.
For information on speakers, click here.
Outstanding Legal & Medical Education
Attendees can expect the very latest information on brain injury litigation at this three-day hands-on conference considered a "must attend" event for all professionals involved in brain injury litigation. The conference features an all-star cast of top trial attorneys and medical experts who will present a broad array of practical information covering the latest literature, diagnostic testing methods, rehabilitation, case management, trial techniques and cutting-edge demonstrative evidence. Attorneys will also benefit from an overview of the medical science of brain injury from an outstanding faculty of researchers and clinicians presenting the very latest in brain injury science, treatment and testing.
Bonus Medical Sessions for the Advanced Practioners
A unique feature of the conference this year, attorneys seeking more in-depth exposure to the clinical aspects of brain injury have the option to attend any of the sessions of North America's seminal conference for medical professionals, 2022 IPBIS and NABIS Joint Conference on Brain Injury. Over 200 internationally recognized medical experts will present the latest advances in the research, rehabilitation and treatment at this concurrent event held at the same hotel. It's like attending two brain injury conferences for the price of one!
For more information regarding the Joint Conference on Brain Injury, please click here.
Credits with Ethics
In the past, this meeting has had 20.75 hours of Continuing Legal Education credit, including one hour of ethics credit, for this program. To get the ethics credit, you will need to attend the Pre-Conference Day.

Sunset Gala: Liberty Cruise
The Gala Cruise will take place on Thursday, September 22, 2022, at 6:00pm – 9:30pm eastern. The boat, Aqua Azul, will be docked at the Chelsea Piers and will depart promptly at 6:30pm eastern.
For more information the gala cruise, click here.

Who Should Attend?
Attendees will come away from the conference with the essential hands-on tools needed to successfully litigate these challenging cases from beginning to end.
Allied Health Professionals
and all others involved in brain injury litigation.
Conference Hotel
The 34th Annual Conference on Medical & Legal Issues in Brain Injury will be held at the beautiful and iconic Wyndham New Yorker Hotel.
Built in 1929, during the height of the Jazz Age, The New Yorker, A Wyndham Hotel has dazzled visitors with its Art Deco décor, exceptional service, and superb location in Midtown West for generations. The New Yorker was at the forefront of the city's building boom in the 1920s. At the time of its opening, it was the largest hotel in New York City, with 2,500 rooms, as well as ballrooms and private dining "salons" – not to mention the nation's largest private power plant, installed in the hotel's sub basements. The Big Band era of the early 1930s ushered in the first heyday of the New Yorker, as guests affected by the Great Depression visited the hotel to forget their troubles, if only for a short while. A citywide economic reawakening in 1994 led to new management and a complete refurbishment of the iconic New Yorker. Nearly 200 rooms were officially reopened later that year, and by 2000, over 1,000 elegantly renovated rooms were brought online. In addition, the hotel remodeled the famous Tick Tock Diner, making it a 24-hour eatery and confirming its place as a New York institution.
Please do not delay in making your hotel reservation as our room block is filling up quickly. Should you get a message that says there are no rooms available, please try revising your criteria. Double rooms are almost sold out, so you may need to book a single queen-bed room. Trying to book outside our block dates (9/20/2022 through checkout on 9/24/2022) may also show no rooms available. Again, please revise your criteria within the dates and book, then call the hotel directly for any additional nights outside the block. It is important to note that the United Nations General Assembly will also be meeting during the same timeframe and hotel rooms in midtown Manhattan will be very expensive.
Official Room Rate
Room rates and a direct link to our negotiated rates are below. Please note that the resort fee of $40.16 per night has been waived for our conference.
| | |
| --- | --- |
| Classic View Queen Room | $289.00/night |
| Classic View Double/Double | $319.00/night |
In order to get the negotiated hotel rate, please use this link: Conference on Pediatric Brain Injury Sleeping Rooms. We have been made aware of scams with regard to hotel rooms and conference attendees. At no time will our staff call you regarding your room reservations. Please do not engage and be sure to let us know if someone reaches out at congress@internationalbrain.org.
Room Cancellations and No Show Policy:
Any individual guestroom cancellations made less than 72 hours prior to arrival will be charged on night's room and tax against the method of guarantee. No-shows will also be charged one night's room and tax. Departures prior to the scheduled departure date will be subject to an early departure fee of $75.00.
The official room rates and hotel block information will be posted early Spring.
Registration Rates
Registration will be open shortly. The rates will be the following: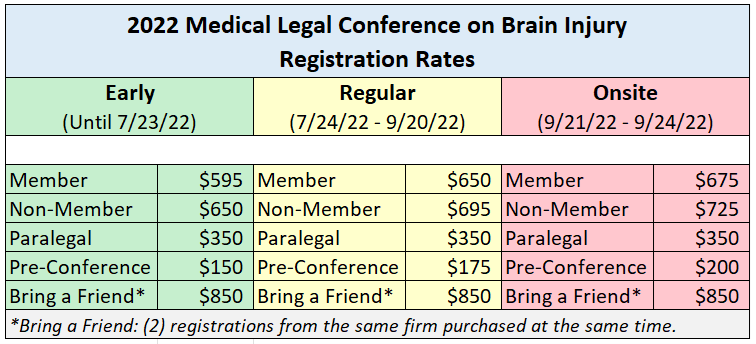 For more information on registration, click here.
Exhibit and Support
For information on exhibit and support opportunities, please click here.
Faculty
| | |
| --- | --- |
| Stewart Casper, Esq. | Brent Masel, MD |
| Shana DeCaro, Esq. | Michael Neff, Esq. |
| Brenda Eagan-Johnson, EdD, CBIST | Tanya Ortega, Esq. |
| Kent Emison, Esq. | William Padula, OD |
| Alina Fong, PhD | William Ricigliano, Esq. |
| Simon Forgette, Esq. | Michael Ronemus, Esq. |
| Michael D. Freeman, MedDr, PhD | David Ross, MD |
| Kenneth Goldblatt, Esq. | Randall Rozek, Esq. |
| Wendy Goodwin, MD | Randall Scarlett, Esq. |
| Sharon Grandinette, MEd | Dorothy Sims, Esq. |
| Harvey E. Jacobs, PhD | Katherine Snedaker, MSW |
| Michael Kaplen, Esq. | Bruce Stern, Esq. |
| Kenneth Kolpan , Esq. | Raul Velez, Esq. |
| Jeff Korek, Esq. | Tamara Wexler, MD |
| Artemis Malekpour, Esq. | Marisuz Ziejewski, PhD |
Conference Co-Chairs
Bruce Stern, Esq. – USA
Kenneth Kolpan, Esq. – USA
Simon Forgette, Esq. – USA
Stewart Casper, Esq. – USA